today i celebrate my 3rd year as a blogger .... i still can't believe how time goes that fast .... I have to admit that my blog was a sanctuary for me when i had no body to talk to .... or may i say didn't want to .... I know i don't blog alot, but if i post each thing i think of then i would probably have thousands of posts by now but for 2 reasons i don't .... first of all things could be 2 personal 2 write about or sometimes better to be kept in the heart,the other reason is that i've been a computer addict, it took me a while to recover my self and i don't want to go back into that place again .... thank god now i try to find anything to do before i decide to come and set infront of the computer ....
I love my blog and i will continue writing whenever i can because it really have so many memories .... memories that i want to remember for ever .... and since i will be moving away from my family and my home, i think i will need my space to vent and talk even if i was talking to my self ....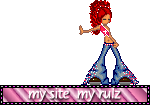 u know !! i told my fiance about my blog - but since he is not a computer geek like my self lool - he didn't know what it is or even asked me about it ..... so should i re-tell him about it or keep it just a place to vent even about him ?!! .....