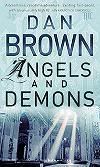 I started reading this book almost a month ago; I am finding so many difficulties finishing it. I have interruptions at work when I set to read and at home I feel sleepy and not interested in reading elmohem I managed to reach chapter 104 page 463 …..
.
It attracts you to not let it go and keep reading as much as your head can stand …..
It's all about an ancient group of scientists called them selves the (Illuminati) created long time ago to defeat the church (whom they say had been always against science) and revived again to finish it's job by destroying the Roman city (Vatican)
.
What made me anxious to finish the story is that the killer to be an Arabic Muslim (yaa far7etna) and he is been shown in a very ugly way!! read this !!!!
.

Quotes from the book
T he woman's hands were tied, her wrists

now purple and swollen from chafing. The mahogany-skinned Hassassin lay beside her, spent, admiring his naked prize. He wondered if her current slumber was just a deception, a pathetic attempt to avoid further service to him.
He did not care. He had reaped sufficient reward. Sated, he sat up in bed. In his country women were possessions. Weak. Tools of pleasure. Chattel to be traded like livestock. And they understood their place. But here, in Europe, women feigned a strength and independence that both amused and excited him. page 85-86

*
"Your final hour," he said aloud, picturing the thousands of Muslims slaughtered during the Crusades. "At midnight you will meet your God." page 432
How today's first attackers and terrorist r to be Muslims without even thinking ….. Am I being Slapdash here? ok I haven't finished the book yet so if u did plz don't tell me the end